Yamagata Zao / Gassan Area
From icy winter trees to summer skiing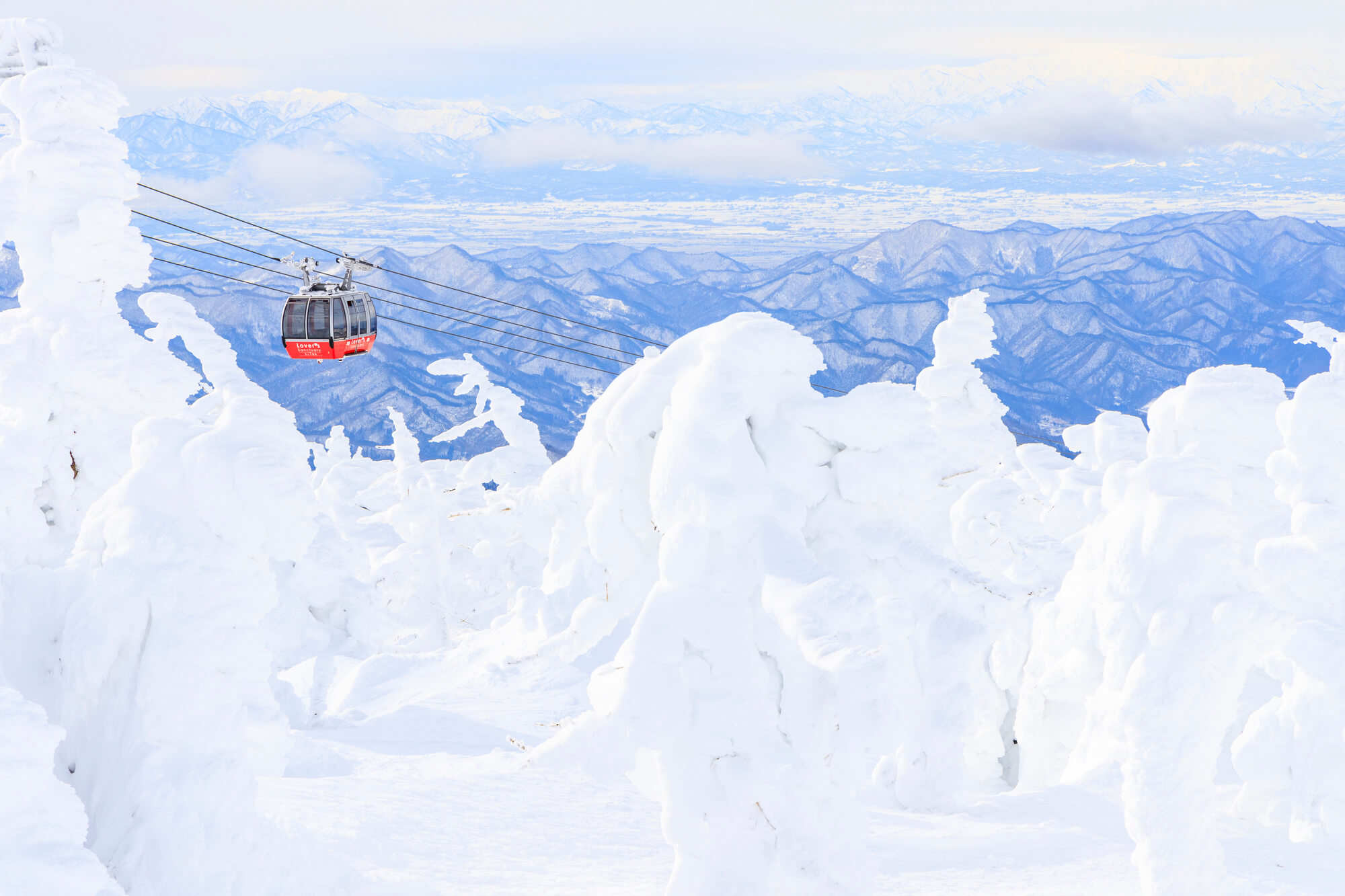 1900 years of history at Zao Onsen
The Yamagata side of Zao is part of the Zao mountain range that stretches across Yamagata and Miyagi Prefectures. At the foot of the mountain range is Zao Onsen, a hot spring village that has been around for 1,900 years and long been popular for its beautifying qualities in its water. The first ski resort opened here in 1925. Making use of the natural terrain of the region, the resort has developed into one of the largest ski resorts in the Tohoku region.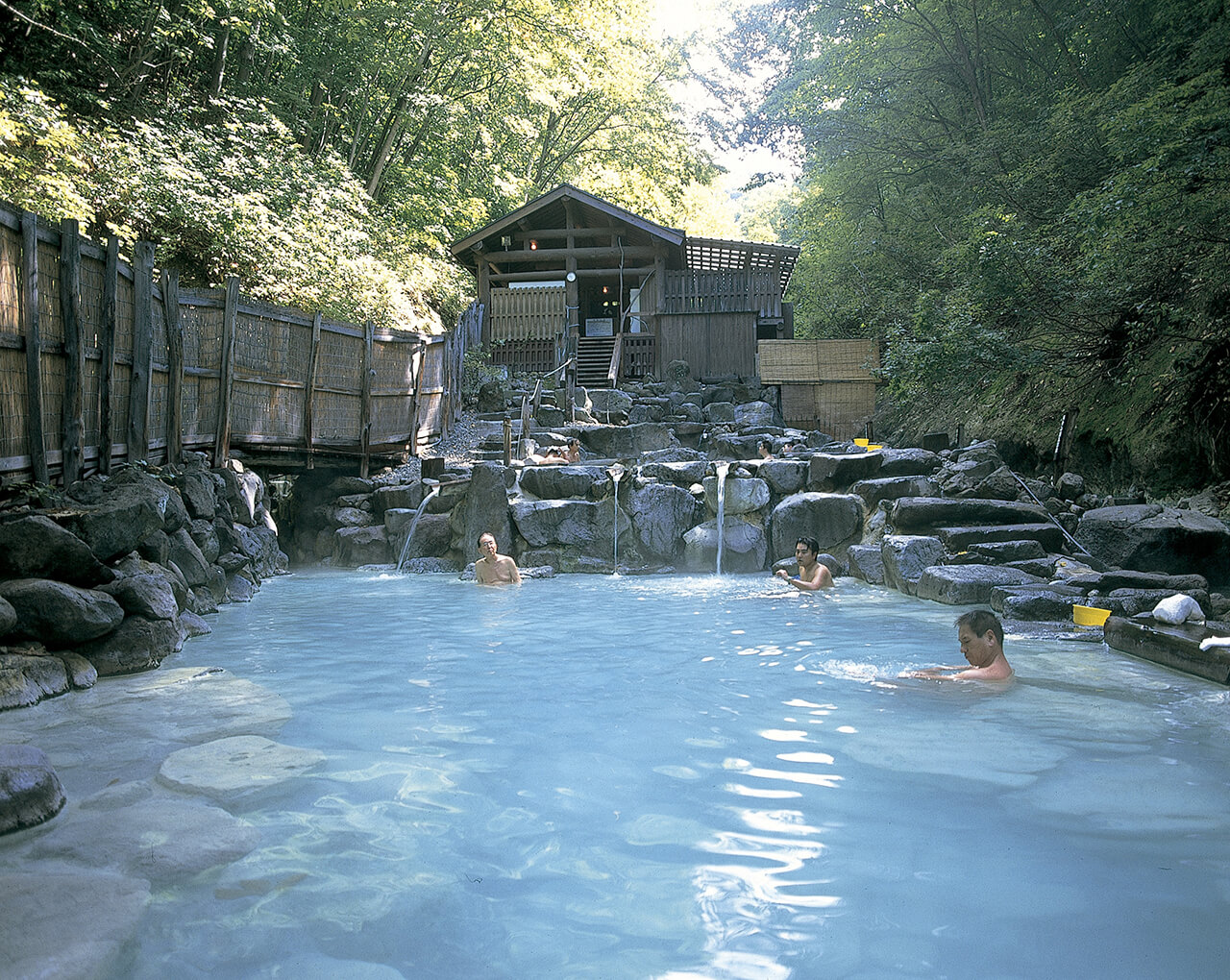 Discover Zao's unique icy trees
While Zao is an area that can be enjoyed all year round, with flowers in spring, fresh greenery in summer, and colored leaves in autumn, the best season is winter when trees are spectacularly covered in ice. This natural phenomenon is made possible due to the harsh weather conditions, with average wind speeds of 10 to 15 meters and temperatures of -10°C to -15°C, which form ice on the Aomori fir trees that grow wildly in the Zao mountain range. Even if you don't come here to ski or snowboard, you can take the ropeway up to the Juhyō-Kōgen station to see this magnificent sight.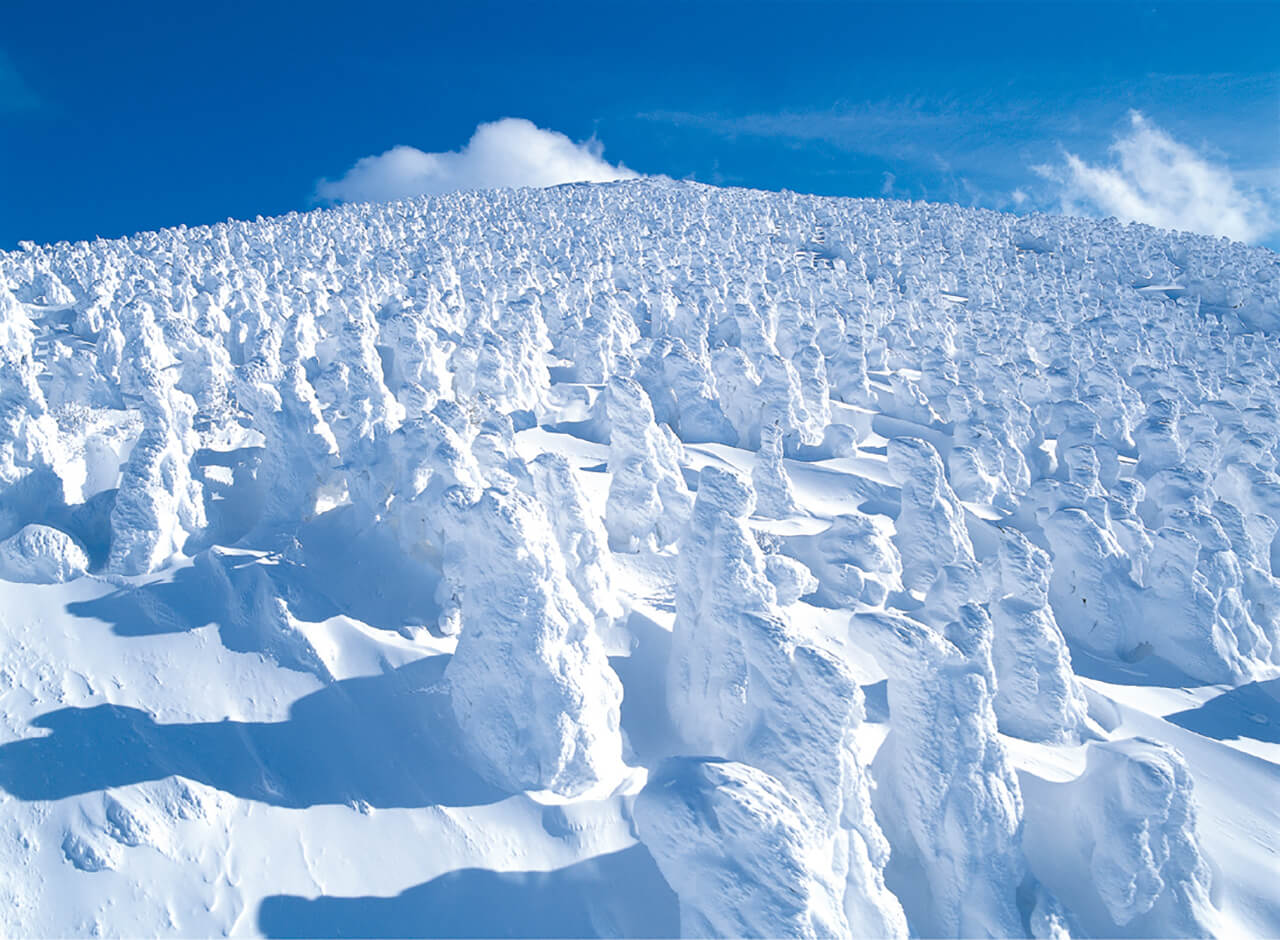 Ski among beautiful frozen trees
For those wanting to hit the slopes, head up to Jizo Sancho Station, 1,661 meters above sea level for a skiing or snowboarding experience like no other. From late December to early March, the frozen trees light up at night. Snowmobile tours are also available that take visitors to these stunning frozen trees at night. A magical time is guaranteed in Zao during the winter season.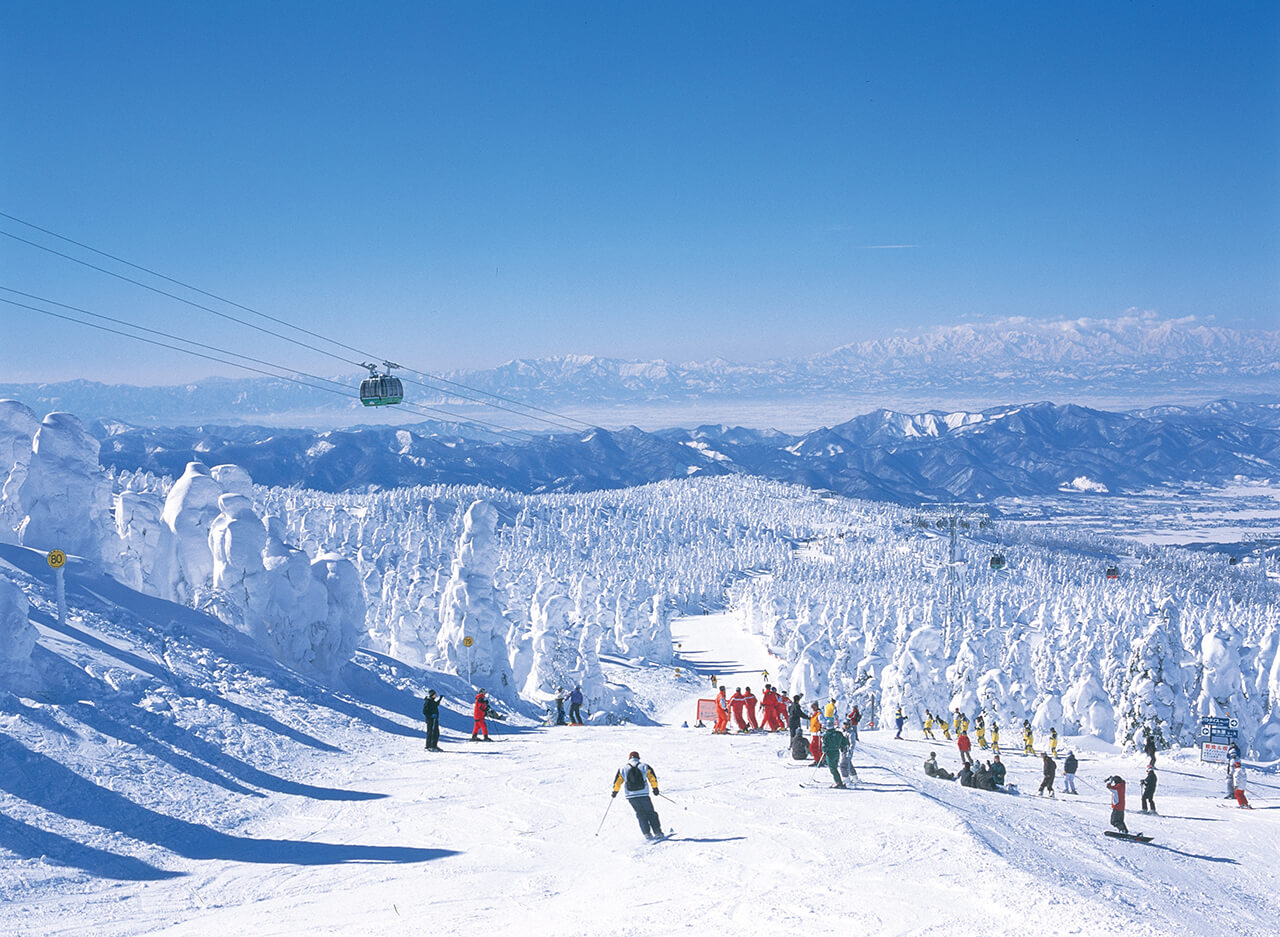 Enter the spiritual world at Gassan
About an hour and a half drive northwest of Zao is Gassan, an area centered around Mt. Gassan (1,984m), the highest mountain of the Dewa Sanzen (the Three Mountains of Dewa), 3 sacred mountains famous for mountain worship. The area at the foot of Mt. Gassan has flourished as a post town and has welcomed visitors for more than 400 years. While this area is known for spiritual places, such as Gassan Sanrosho, where visitors can stay for a period of time to pray to the gods and to Buddha, visitors can also enjoy Gassan Shizu Onsen, and Mt. Gassan, which has been recognized as one of the "top 100 mountains in Japan".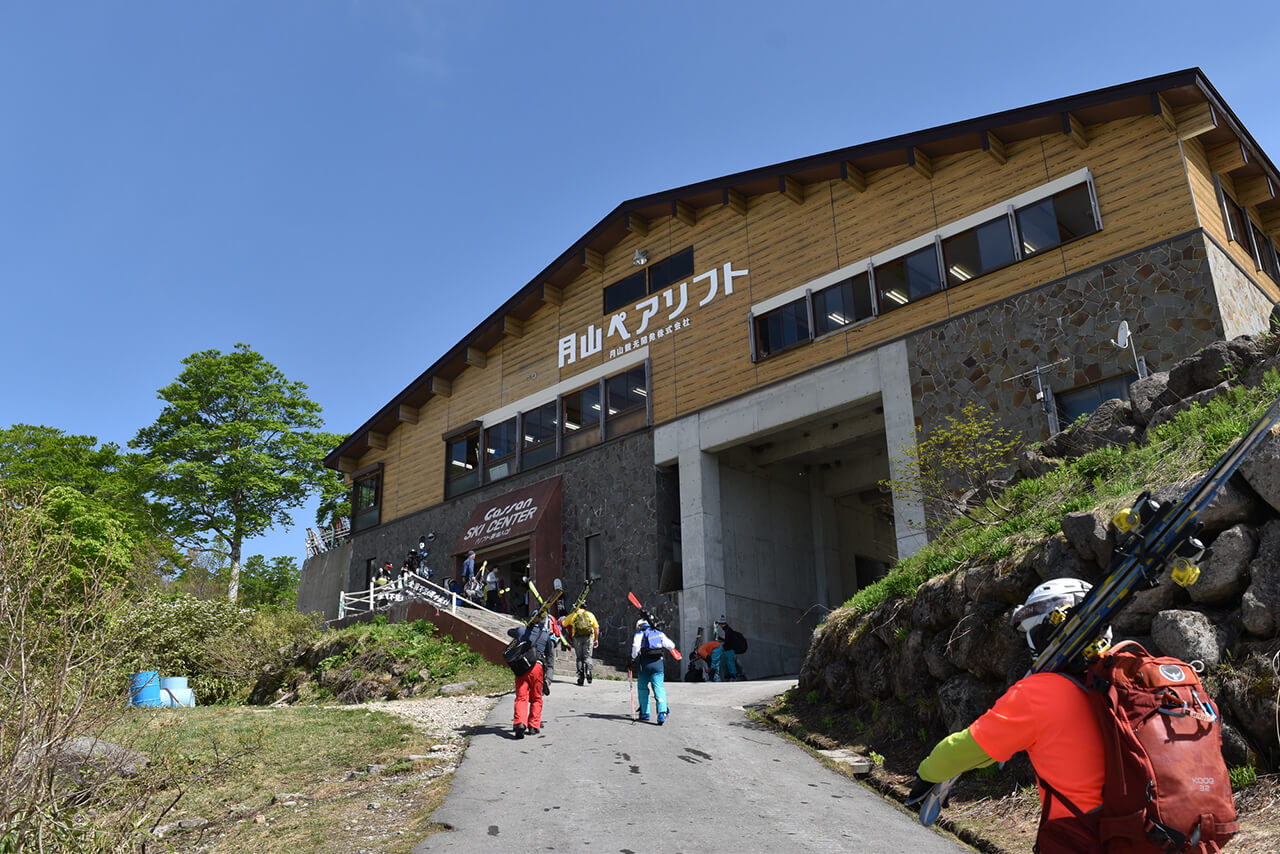 Ski in summer at Gassan
Yamagata Prefecture boasts one of the highest snowfalls in Japan, and in Gasssan, where the ski resorts are at a high altitude, snow can be up to 6 meters high. Since snowfall is too heavy in the middle of winter, the resort usually opens in April and is known as the only ski area in Japan where summer skiing is possible until July. It's not out of the question to wear short sleeves while skiing. Although skiing here is difficult in the middle of winter, there are many events for everyone, such as snowshoe trekking at the foot of Mt. Gassan, or beautiful lanterns at night at Gassan Shizu Onsen. Visiting this pure white world is a great way to experience life in a real "snow country".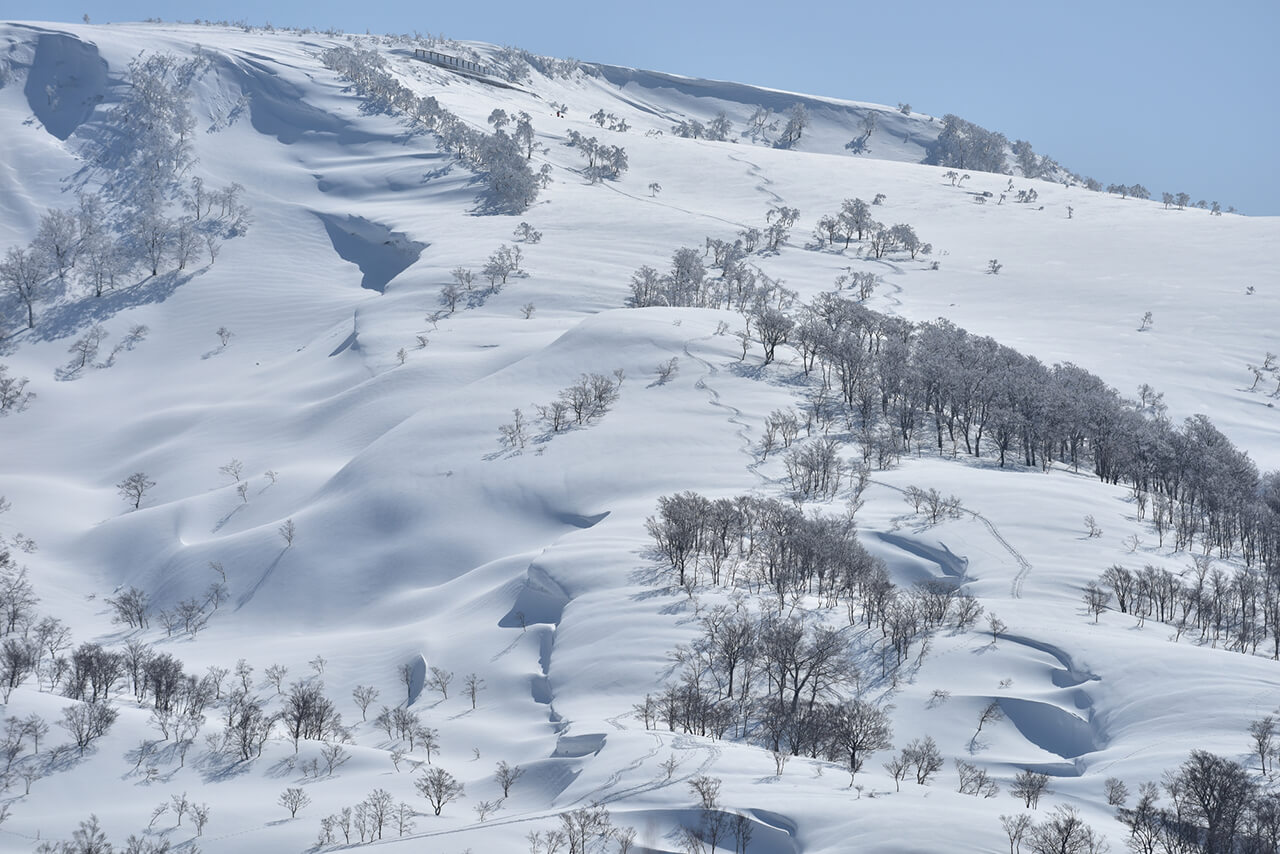 Stay and relax at a hot spring inn
To visit Zao and Gassan, visitors need to first head by train to Yamagata Station. It takes about 150 minutes from Tokyo Station via the Yamagata Shinkansen. From Yamagata Station, take the bus for 45 minutes to reach Zao. The bus to Gassan takes 70 minutes. Both areas have plenty of great hot spring accommodations; it is worth staying over night to enjoy both winter sports and Japanese hot spring baths. Visitors can relax and dine on traditional local delicacies including wild vegetables, soba noodles, stewed sweet potatoes, and konnyaku balls.